It's TUESDAY! You know what that means. Lovely little Post-Its of Snarcasms! Sponsored by the super fabulous
SupahMommy
!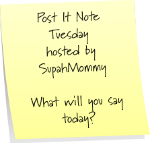 If you don't lurve mine, go check out all the other peeps over at Mr. Linky at
Supah's
Place!
Well, that's it folks! Next weeks installment should be fabulous. Nothing like a house full of friends and family to make for great blog posts!

Happy Thanksgiving! Remember to be thankful for all your blessings this week lovahs!

MWAH! LOVE!