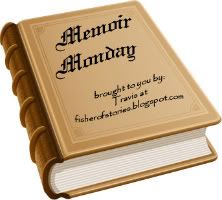 It's that time again. My buddy
Travis over at I like to Fish
started this little thing we call Memoir Monday. There aren't really many rules. It just has to be a true story!
WARNING: If you are easily offended, BIG DADDY CAIN aka The Hubs has guest posted (sort of) again. DO NOT CONTINUE unless you are prepared. (Linda this means you!)

I have a lack of inspiration this morning. Serious lack of inspiration. I spent the weekend cleaning before the holidays are upon us. I will have a boat load of peeps in for Thanksgiving so I cleaned, and dusted, and cleaned, and dusted, and cleaned, and you get the idea. So....uninspired today.

Therefore, Memoir Monday is the VERY recent past. Like last Thursday night recent past. The hubs aka BDC is such a peach. He accompanied me to the premiere of The Twilight Saga: New Moon. He didn't bitch, or grumble, or ruin it for me! What a sweetheart huh? Yeah, just keep reading.

So we went to pick up the tickets from Carmike Cinemas, that I purchased several days prior via FANDANGO. Fandango rocks! Just so you know! I walked in, handed the little attendant my confirmation print out, and presto! New Moon tickets! Easy peasy! AND, I just want to give props, and a shout out to the staff at the Fleming Island Carmike Theaters! THEY ROCKED! They had chaos under control for real! What would normally be like herding cats was well structured and the best organized midnight movie premiere I have attended! And that is saying something. I saw the long anticipated and waited for Star Wars Episode I at a midnight premiere and it was a nightmare! So PROPS Ms. Janelle, and Mr. Matt, you two had your stuff together for real!

So after we picked up our tickets, we had a couple of hours to kill. BDC wanted to go have a drink. I said he was a sport about going with me, and that he didn't ruin it, I didn't say he was particularly happy about it. So, since he was indulging me, I took him to MOJO BBQ cause it is right next to the theater and they have a nice bar. We ordered some chili cheese fries and BDC had himself some liquid truth (151 and coke, neat). If you don't recall what liquid truth does for BDC, please refresh your memory
here
.
We are chatting away and BDC notices a bottle of Knob Creek bourbon on the shelf. The following is our convo:

BDC: Do you know where the name Knob Creek came from?

Me: No. I am sure you are going to enlighten me though.

BDC: Getting a blow job from an 'ol lady and her knees creeked when she was slobbin' the knob.

Me: Nice!

He then comes up with what he refers to as Layers of Goodness, or a rating system for judging women who happen to be patronizing the establishment. So brace yourselves.

Layers of Goodness:

I'd buy that for a dollar.

I'd rape that for 50 cents.

I'd finger that for a quarter.

I told him I wouldn't dry hump that with your dick.

so he then added: I'd dry hump that for a nickle.

So there you have it. New Moon rocked. Carmike Cinemas rocked. And Big Daddy Cain gave you all a new rating system. Happy Monday!

BTW - For those of you looking for Christmas gifts for FREE. Go check out this
Laptop Give-away
! My buddy
David over at The Rest is Still Unwritten
is giving away a laptop compliments of HP.
Love!