It's time for that time honored tradition that my buddy Travis over at I Like to Fish instituted, some several weeks ago Memoir Monday.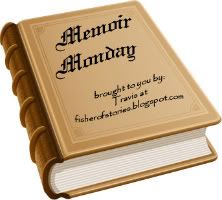 When I was pregnant with my youngest I had cravings for all things sweet. I would stop at least 3-4 times a week at Kripsy Kreme donuts and pick up a cinnamon roll or donut and a hot chocolate. I had an hour drive into work everyday so the hot chocolate, which is served at the temperature of the sun's surface, would stay hot until I made it to work. My little buddy Kooper was with me every morning as we made our way to the private sitter's house and then Mommy was off to work. When the light was on, you all know the light. The one that says "HOT and Now". Oh how I loved that light. When the light was on, we always got hot donuts.
It became our thing. Hot donuts, hot chocolate. Sweet delicious, melt in your mouth, yumminess. Kooper was addicted. I didn't realize that we had a problem until I stopped having the cravings for sweet as often. I would grab something before I left the house, or grab a biscuit at McDonald's or whatever. Then, one morning we were on our way and my little man says "Mommy, can we stop? The light is on!" He had the cutest little plea, and he said 'on' like you hear a Bostonian say "one". I had to stop. It was the cutest thing evah!
It has become a cute joke in our family. Anytime we drive by a Krispy Kreme, and the little red light is "on", someone in the car, in their best three year old impression says, "The light is on!"