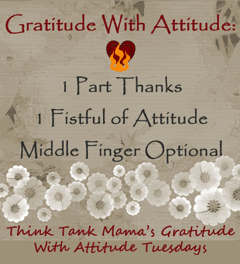 It's Tuesday!
Therapy Day!
Thank those people, places and things that deserve an attitude adjustment.
Thank you so much for shedding those five pounds I put back on being off the proverbial wagon! However, please show yourself to the door and do not infect my baby!
Still Woozy Stomached Momma
Thank you for stealing an hour, I didn't need it anyway. Not like I could use every spare minute of extra sleep I can get thanks to the Sandman who is obviously still hibernating for the winter.
Still Sleepy Momma
Dear Daily Vitamin Regime,
Thanks for giving me a false sense of security that I could fight off the gaboodles of sniffles, sneezes, coughs, aches, pukes, shits, fevers, and everyotherfuckingthing out there this season. You just reminded me that there is no end to the lengths I need to go in public not to touch anything.
FUverymuch,
Tired of Being Sick this Year
Dear Plethora of Antibacterial Gels I carry (or as Kamden calls you OCD juice),
Thanks for falling down on the job. You let several slip past you this season. Get it together or you will be replaced.
Disappointed,
Obsessed with Germs
Dear Sandman,
Don't think I don't know that the letters I wrote above really all boil down to the fact that my immune system is in the shitter thanks to your extended vacation. You have been hoarding all that sleep dust for yourself long enough. If you don't get back to work, I am reporting you to Mother Nature. Cause everyone knows that she is Queen of all you magical whateverthehell you call yourselves. And based on the winter we all just had....Imma say she is in a foul disposition.
So don't say I didn't warn you.
Thanks,
Waiting for Sleepy Time
Well, there you have it folks. Write your gratitude, add some attitude and link up!