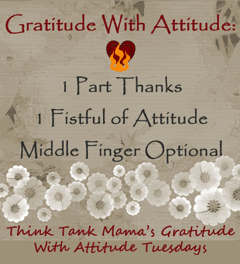 The Cheapest form of therapy around!
Thanks for letting the Sandman out of captivity. 'Bout freakin' time!
Thanks for making me feel inept. Thanks for collecting, and collecting and collecting. Thanks for reminding me every. single. time I open a browser that I am in fact the worst bloggy buddy ever as of late. But most of all, thanks for accidentally losing ALL my stock piled blogs with that update so that I have no idea how much I suck. I guess I will start anew tomorrow. Hopefully everyone will still visit me. If not, I am sending the little Google Gnomes F'ers that I caught and have duct taped in my closet after you.
Blogger who used to get a lot of comments
Thanks for puffing my eyes out just enough to smooth away those ever increasing little crows feet in the corners. That is fantastic. Better than Botox really. However, I do not really need the constant watery itchy eyes that go with the puffy. I do not really care for the runny nose. The itchy roof of my mouth. The constant ringing in my ears I could also live without. So really, could you just leave the smoothed out lines and take the rest with ya? Go on ahead and get a move on would ya? The pharmacy keeps looking at me like a Meth head because I keep buying the behind the counter, over the counter drugs.
Just allergic not a Tweeker Momma
So go ahead....get your attitude adjustment over with. Write it down. FREE Therapy! And then get your butt back over here and link up!
Love!