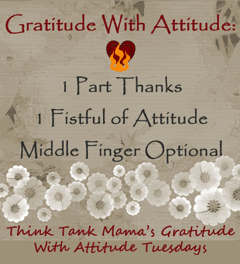 HAPPY TUESDAY!
ADJUST THOSE ATTITUDES....SHARE THE GRATITUDE!
Dear Blogger,
Thanks for being down this morning. I really needed to get the finishing touches on my post done and you were down. That gave me time to twiddle my thumbs, read all my Wordpress blog friends, consume copious amounts of caffeine so that I developed the jitters. Yes, the gacked out tweeker look works well for me. It at least makes NickJr and Sprout television tolerable. My brain is working in overdrive so talking pigs just seem...normal. Yes..thanks indeed Blogger.
Sincerely,
Blog Addicted Momma
Dear BitchAssHo Scale,
Thanks for nothing. Thanks for all the words of encouragement. You know, the words you screamed at me when I stepped on you this week. Oh, and there really wasn't any need for the laughter, and the "I told you so" remarks. I mean, saying "get off my back fatass" really did suffice. I realize that I have strayed way far off the LIB path. I realize that I have gained back what I lost. I know this. But you, you have to be mean and hateful. So I am considering replacing you. That's right you mouthy bitchassho scale. I thank you for encouraging me to get Wii Fit. And just so you know....I am back on track starting now. I got the rest of the year to meet my goal, and I have until April 30th for the challenge. So HA!
Disrespectfully,
LIB Momma
Dear SpringBreak,
Thank you for coming the week after all my friends have Spring Break. I really didn't want the ability to go and plan things for the children that included my friends and their children. I appreciate that now it will be just me and the bambinos. We needed some more one on one time. We don't get enough of that. I certainly appreciate that you were just thinking of us.
Ungratefully,
Will be wound tight next week Momma
Happy Tuesday Smackers! Thank those people, places and things that need some attitude! Then come back and link up!
LOVE!