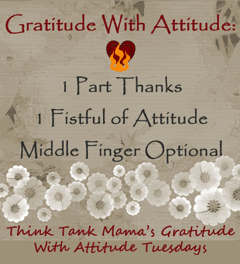 It's time to whip up our favorite Tuesday recipe for the thankless! A little Thanks, a FISTFUL of Attitude and if needed, a middle finger!
Grab the code.
Write your letters.
Gratitude with Attitude begins now!
Dear Loser with the Worst Job Ever Door to Door Meat Salesman,
Thank you for knocking on my door to try and persuade me that I need your cheap meat. Thank you for waking me as I had just finally gotten to sleep after being up most of the night with my newborn. Thanks for continuing to insist that you have the best deals going when I obviously was not interested. Surely you didn't think that if you just asked a different way that I would ignore the fact that I said NO. Here's a tip, you know, to keep you out of jail in the future, NO means NO.
Sincerely,
Never gonna buy your frozen crap!
Dear Blind and Brave Bible Thumpers,
Thank you for rapping so loudly at my front door that not only did you wake me up, but you also woke the newborn, I JUST GOT TO SLEEP. Let's step back a moment and talk about the signs that you obviously missed on your way in my neighborhood. Did you not see all the signs stating beware of pitbulls? Did you not see the Confederate Flags flying in every other yard? Not that I mind that two black women go door to door preaching The Bible, but I couldn't go back to sleep once I told you not interested for fear of your safety. It just isn't safe out here with all the stupid fucktard inbred rednecks who don't realize that the South lost in the sticks for you to be preaching door to door.
Sincerely,
Still not interested but Concerned for your safety.
Thank you for leaving me with nothing to watch in late night. ASSHATS?!? Thank you for reminding me just how much you suck with all the stupid "Get back to where you once belonged" Jay Leno commercials while I was watching The Olympics. Given that I am up all night these days, it would be nice to see my buddy Conan. Nothing like rubbing salt in an open wound NBC.
Still Pissed about your bad programming decision
Well, that's it Smackers. If you haven't seen me lately, I am around. I have been visiting here and there. I leave comments when I can. I will be back to normal soon....