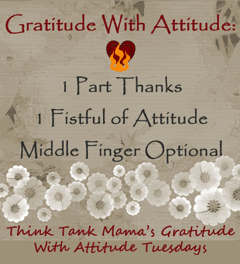 It's Tuesday!
Ready to adjust some attitudes?
A little Gratitude in order?
Shall we begin?
Dear Sandman,
Thanks for skipping my house. You could've dusted the baby lightly night after night, but I appreciate you giving us so much one on one time while everyone else is sleeping. We have bonded. So much so that if I put her down to sleep, she screams like a banshee. So thanks! Let me know when you'll be stopping by again. Asshat!
Sincerely pissed,
Sleep deprived Momma
Dear Cat,
Thanks for reminding me that I am a dog person. I tried to take care of you. I let you stay here. Granted this is a dog house, so you had to stay outside. Sorry dude, I'm allergic AND the Chis were here first. So I got you some food and a bowl and I fed you. That wasn't enough for you though was it? You decided you wanted to be inside like the cools kids dogs. After repeatedly throwing you out, over, and over, and over, and over you did not get the message. I regret to inform you, that we will be making a trip. There is a Chinese place right down the street....you know what they say...."tastes like chicken".
Sincerely,
Chihuahua Momma
Dear Prentender,
Thanks for not listening to me when I tried to show you the error of your ways. I really was trying to save everyone a whole lot of grief. Yet, you, yes you, the mighty all knowing were obviously right. It couldn't possibly have been what I said it was. So instead you got your panties in a wad. Spun up all those around you. Made everyone think that I was the bad guy, and now.....YOU HAVE EGG ON YOUR FACE. Funny little predicament you find yourself in. Do you still try to be all noble and keep spewing your madness, cause you might have to admit YOU were WRONG? Or do you apologize? Hmmm......
Either way...I win. Thanks for playing. Oh, and thanks for showing your true colors.
Sincerely,
Taking the High Road
Dear Snarkler Bishes,
Thanks for getting together without me. You ate, you drank, you were merry. Without me. Did I mention.... without MOI?
Sincerely,
Still Pouting
Well, that's it Smackers! Have a great Tuesday. Write your attitude adjustments and link up!
Love!