It's TUESDAY, and that means POST-IT NOTES sponsored by the Ultra FABU
SupahMommy
.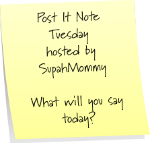 So when you get done here, go on over and check out all the other linky loos that Mr. Linky has posted on
SupahMommy's page
cause everyone loves this shiz!!!
Michael C. Hall...I can't miss Dexter!

I promise no fruit, unless it's in the cookies!

There you have it folks. The Aftah....Thanksgiving Post-It wrap up. Leave me some love, and then go see the rest of the Post-It Notes. Make UR own if you want by visiting the
Superstickies site.
Then go link up! I know you want to make some! Do it for me, you all are some funny bitches!!
Mwah!