Normally I don't really like being sticky. Rolling around in honey or chocolate just seems like a perfectly good waste of something sweet. But ever since
SupahMommy Post-It Note Tuesday
swept me off my feet, I just lurve stickies! Sticky everywhere please!
It's TUESDAY! Woot! Go see Supah when you get down here and visit all the other peeps creating their sticky sweet posts!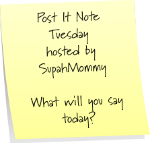 Here are my baked up goodies from this week.

Alright sweet peeps. That concludes another stickkkky note post.

Keep your hearts full of holiday cheer and have some eggnog or mulled cider! Love!