You guys really should be loving Think Tank Momma again. LOOK what I found for you?
Bloggy Blog Designz is having ANOTHER giveaway! SUH-WEET! Rockin' Around the (sung to the tune of Rockin' Around the Christmas Tree)
Blogosphere, it's Jenna and her crew! Making the BLOGGERS look so good, with a lift and tuck for cheer!
I want to thank Bloggy Blog Designz for my coming soon to a blog near you makeover. AND, for replacing that damn Chipettes song "All the Single Ladies" from the upcoming Chipmunks movie with a Proper Freakin' Christmas Carol. Cause seriously, if I have to hear Beyonce huffing helium on fast forward singing that song one more time in my head, I going to gauge my eardrums out with an ice pick, all Sharon Stone style Circa 1992 Basic Instinct.
So here it is folks, straight from the website:
Last weeks giveaway was so fun that we have decided to do another one! Every entrant won something last week, so we are excited for this week! If you missed out last week, we hope you enter now... or even enter again!


Here is how to enter: Copy the following to a blog post, be sure to leave a comment with your URL so we can check it out, and you are instantly entered! As a special thanks for entering our Holiday Giveaway, we are offering ALL entrants 20% off until the end of the year! Your prizes can be redeemed in giftcard form if you would prefer to give them as a present to a loved one! Just see the post below!


Bloggy Blog Designz is having ANOTHER Holiday Giveaway!!! Last week every entrant won something, so they decided to do it all over again! They are giving away blog designs and all kinds of goodies. Plus ALL entrants will receive 20%off their purchase through the end of the year! Be sure to check out their website for more information, or to enter yourself. Take a look at their portfolio and packages to see what you want for Christmas ;) With 6 giveaways this week, who knows whats in store for next week?
The first 5 entrants will receive a $10 giftcard. The giveaway will close on Dec. 13th, so be sure to have your posts done and comments left by midnight! Good Luck to everyone! We are so excited. Merry (early) Christmas!
(Our Design List is open after January 1. Discounts from this giveaway do not apply to designz in progress)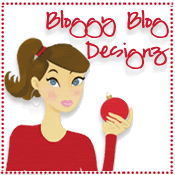 TravyG - I am not making a special shout out to you. You either read my shiz and win, or you FAIL! :D
Go for it peeps! Bling Bling Bling! Baby! It's what's on Momma's list for Christmas!
LOVE!