You know what time it is, that special day of the week when half the blogosphere shares way too much information with the rest of the blogosphere about shit, snot, sex and other unmentionables. So, grab the button and run over to link up with the always over the top and fabulous
LiLu
.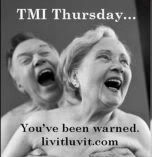 When my middle son Kooper was a baby he had the strangest bowel movements. Seriously. They were always clean and little rabbit pellet type droppings. There was never any need for more than one wet wipe, and that one always came out clean.
One night after a long day at my parents, the hubs, Kooper and I were headed home. At the time we lived about 35 minutes from my parents house. We made a quick trip to Wal-Mart. I put the bags in the trunk, and hopped in the car to turn on the heat as it was cold outside, while the hubs buckled Kooper in his car seat. I silently let one rip. Uh-Oh! I knew immediately that it was going to be bad, it had
that
burn. Yet, there is nothing I can do at this point. It had already escaped the clothing and was not to be trapped in the seat. It quickly started to permeate the car. The hubs jumps in the front seat and puts his seat belt on and I back out and start moving about the time it hit our nostrils.
Hubs: "OMG...what the hell is that smell?"
Me: "Ecccckkkk! Oh my...
gag
....was that you?"
Hubs: "No...God, is that coming in from outside?"
Me:
gagging....
"No I don't think so..."
Both
of us roll down the windows.
Hubs: "Kooper must be sick. We are going to have to ride with the windows down the whole way home."
Me: "Should we pull over and change him?"
Hubs: "Naw...it's too cold. Just keep the windows down so we can circulate air."
We arrive home. Hubs grabs the kiddo and I gather the bags. Once we get upstairs the hubs takes the kiddo to immediately change his diaper. He comes out of Koop's room with a puzzled look on his face.
Me: "Was it
that
bad? Diarrhea?"
Hubs: "No."
Pause.
Hubs: "He was clean."
Me: "Oh...the pellets again."
Hubs: "No...he wasn't even wet. No poop, no pee, no nothing."
Me: "No way."
Hubs: "Serious. He must have some wicked stomach cramps. Maybe you should give him something. That was the worst gas I have ever smelled. EVER. I thought I was going to find something DEAD in there."
Me: "Sure thing. I will give him some of the pink stuff."
>>>>>>>>>>>>>>>>FAST FORWARD>>>>>>>>>>>>>>>>>
Five years or so later
. We are all sitting at the table playing cards and the hubs has cleared the room already several times due to sharing the essence of chili cheese fries with those playing cards. He begins to retell the tale of the green smoke that filled the car compliments of one toddler named Kooper. I start to laugh. I can't help it. He has told this story a gazillion times, but this time, it just struck me and I lost it. I am laughing so hard tears are streaming down my face. I replay the scene from
Liar Liar
, with Jim Carrey in my head where he gets out of the elevator and turns around and says "It was me." I am laughing uncontrollably at this point. Red face, tears, can't catch my breath, gasping for air, abs screaming in pain for the madness to stop...I look bleary eyed across the table at the hubs. His face turns white, his eyes widen and his jaw drops.
I squeal out..."It was me............................"