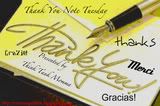 LIP SMACKERS!

THINK TANK MOMMA PROUDLY PRESENTS

THANK YOU NOTE TUESDAY

So here is the game. You know those people who you come across every. single. day. that just rub. you. raw. Those things that just need, more than a casual "Excuse Moi?" Sometimes you need to just go that extra mile to say "Fuckyouverymuch" "Thanks so Much!" Being the loving, caring bunch that we all are, I know that you all will do the right thing and write out your weekly Thank You Notes, Think Tank Momma style.

Here is an example. By now you all know how happy I am with the crack team of wizards running NBC. Here is a Thank You Note to them.


Dear NBC,
I am so thankful that you are replacing the best show host of The Tonight Show ever, Conan O'Brien.

Now I can go to bed without worrying I will miss something.
Not bitter at all,
Sleepy Think Tank Momma

So you get the idea now right? Grab the button. Join the fun. And let the THANK YOUs BEGIN!

Dear Evil Bitch Scale,

Thank you for motivating me, one day at a time.

At least you have the decency to be going down!

2.3 this week. That is a total of 14.4 lbs.

Thanks for talkin' Smack!

LIB Momma

Dear Moron Bill Collector,

Thank you for repeatedly calling my 10yr old's cell,

after being asked to remove the number from your list.

Jessica WhatevertheHell, doesn't pay her bills but, I

have plenty of minutes to burn.

Thanks so Much!

Bill Payer
P.S. I needed to up my minute plan, you motivated me to get it done.
Dear 112yr old Traffic Director at Parent Pickup,

I know that we all do the same drill everyday to get the

kiddos, but I am so thankful that you are there to show

us how to do it right. I am sure that we would never

remember without your exaggerated hand gestures and

constant shrills of "No, No, No" and "Go, go, go!"

Thanks for keeping it moving!

Parent PickUp Mommy

Dear Daughter,

Thank you for coming home from work on Saturday

and announcing that you thought of me when you

passed Krispy Kreme. Thanks for then telling me how

you were going to stop and bring me home some donuts.

But then you remembered LIB! It wasn't evil at all that

you taunted me that way.

You're the Best! Love, Mom

Alright Smackers....grab the button, add your link in the little Mr. Linky thing below and bust out your SPECIAL appreciations for those who deserve them most!