It's Tuesday, which means only one thing. Lots and lots of Post-It Notes all over Blogland.

So join the FUN!

Grab the button.

Head over to this
site
and make your own post-its and get to postin'!
Then go to
SupahMommy site
and do the Mr. Linky thing so people can come and see yours too!
Yes, this is a show me yours and I'll show you mine, or whatevs...I suppose you pervy types can just be voyeuristic and look on from the corners if ya like.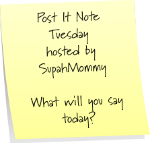 First, in honor of all things sticky, this is possibly THE coolest video EVAH! EVAH EVAH!

Really what's more awesome than sticky notes? Choreographed sticky notes! That's what.

Just watch!

So, now, back to bidness. Stick 'em, if you got 'em!

Well, short and sweet this week people. Think Tank Momma regrets to inform you that her snarcasms and wit may be performing at the bare minimum due to Bronchitis and lack of sleep. Once she stops hacking up her lungs she will be back to her normal biting cynicism.