It's Tuesday, which means only one thing. Lots and lots of Post-It Notes all over Blogland.

So join the FUN!

Grab the button.

Head over to this
site
and make your own post-its and get to postin'!
Then go to
SupahMommy site
and do the Mr. Linky thing so people can come and see yours too!
Yes, this is a show me yours and I'll show you mine, or whatevs...I suppose you pervy types can just be voyeuristic and look on from the corners if ya like.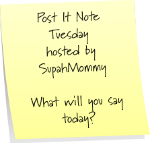 So here we go, stick 'em if you got 'em!
Friday...go see
That One Mom @ Chronicles of an Only Parent
There you have it Smackers. Another SUPER STICKY Moment between friends. I apologize to all of you for not being responsive to your comments. I have been a wee (pun intended) bit busy here at the Tank. I am getting it together, I swear. The children go back to school Wednesday. I have the
LIB (Lose It Bitches!)
site up, and I have been working really hard with my contributors to make it special for you.
As always I leave you with LOVE!