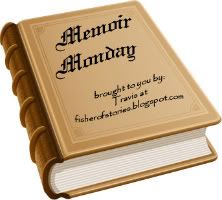 It's Memoir Monday again. My good buddy TravyG over at
I like to Fish
hosts this, and according to him the only requirement for our Memoir is that it be true. So get your butt out of the corner, reach deep into those memory recesses like Little Jack Horner, and pull out a plum(memory).
When I was little, my Dad used to rough house with all of us. I have two younger sisters and a younger brother. I am almost nine years older than my brother, 4 years older than my baby sister and 19 months older than my other sister. My Dad wrestled with all of us girls like we were a house full of boys.
He had a ritual down that would almost inevitably get us to cry "I Give." aka as "uncle". He would push your hair off your forehead and spat it, repeatedly. He would grab a handful of hair and pull up, not hard, just enough, and then ask you if you liked your hair raising experience. He would tickle us until we laughed so hard it hurt. He had a claw hand he made and would grab your sides and call them horsey nibbles. But the one that no matter what else you had endured, would always make you say "I give!" was his infamous eyeball lick.
WHAT?
I know you are thinking
WTF?
That's right. My Dad would lick our eyeballs. Well, you know not literally the eyeball itself, but full open mouth tongue run across your eyes, which makes you close them really tightly. But, regardless, it was disgusting. It's still disgusting.
I have had the pleasure of repaying my good ol' Dad for that little treasure though. I have three boys. I have shared the experiences of my youth with them. Shared the essence of GrandDad if you will. I taught them well. However, after years of
abuse
experience, I knew in order to put those skills to good use, against he who had gotten me so many times, I had to teach my boys stealth. Why? We tested it out on our own Daddy. In order to get the hubs, you gotta be good.
So, to get them both, my hubs and my dad, I have taught my sweet affectionate little boys to pretend to want to give hugs and kisses. They have to get them both when they(Daddy and GrandDad) least expect it. They just have to bust it out when they can. Cause in a war, we (me and the boys) always lose. So now, we plot. We are stealthy. We look at those big men all sweet and innocent. We go in for a kiss, and then swipe that tongue right across their eyeballs.
First and only rule in "I Give" Wars. You gotta get your licks in when you can!