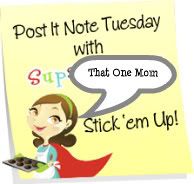 It's time to get STICKY with That One Mom!
It totally sounds like something pervy...with honey. However, get your minds out of the gutter. It's STICKY NOTES!
If it's your first time...no worries. Go here and make some sticky notes and then go link up at That One Mom's place.
That One Mom and me outside The Lighthouse in St Augustine.
Me, @BuffeesTruth and @That_One_Mom cheesing it up!
That One Mom and me taking a photo op on some awesome trees.
Me and Buffee (The Truth According to Buffee) on the same tree branch.