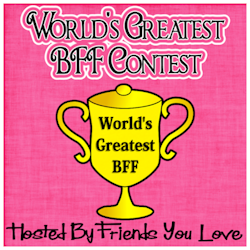 Do you have the best BFF in the World?
A true friend is one soul in two bodies. ~Aristotle


A best friend is someone who knows you better than you know yourself. It really is that simple. Someone who doesn't care if you have an ugly day, a bad hair day, an "I hate the world" day. Someone who will you remind you even when the situation seems unbearable and you cannot possibly go on, that there is always chocolate. Then she'll bring you some!
Friends You Love is sponsoring a creative writing contest for the World's Greatest BFF. If you have it, you better BRING IT!
To enter:
~Write a post about your BFF.

How do you know her? How has she been there for you? Tell us about the things you've been through together, through thick and thin.

Why is YOUR BFF The World's Greatest BFF?

~Come back here and link your post up

Entries accepted 9/2 - 9/19
On 9/23, FYL will post our Top 5 favorite BFF posts.

~Beginning 9/24, the public can come back and vote for their favorite!
~Voting will close at 5 p.m. CST on 9/29
~The winner will be annouced at Twitter Gala on 9/30 and receive an extensive prize package for herself AND her BFF