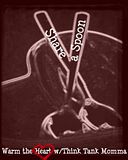 Tamara as she known to most asked for casseroles, or as the English call them bakes. My good friend Dreamweaver from Minnesota would probably call it a hotdish. Whatever you call it, it's a deepdish, bake in the oven and serve from the same dish kind of meal typically found at potluck dinners and family gatherings here in the US.
So join me here in the Tank on Thursday and offer up your take or favorite baked casserole! I would especially love to see some Mexican casseroles from my Mexican friends, who I won't call out. (Ahem....Lluvia, Meeko).
It's a POTLUCK dinner Think Tank Momma Style! You're invited! See you Thursday!
Now, go enjoy your weekend! Love!