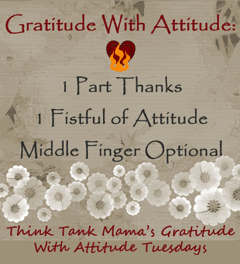 Unleash the Attitude and share your Gratitude!
Dear Diaper Makers,
Thank you so much for making disposable diapers. There is no way I could clean out cloth diapers. It really just isn't possible for someone with a stomach that does somersaults at the gross to use cloth. However, would it be too much to ask to make OVERNIGHT diapers for the teeny tiny? You tease me with the promise of them yet there aren't any for newborns. I realize that there aren't THAT many newborns sleeping long enough to require them, but mine does! She sleeps for 10-12 hours every night. I NEED OVERNIGHT diapers. She was soaked completely from head to toe this morning. I am NOT putting those plastic covers on her. Those are not comfortable for sleeping.
Sincerely,
Tired of washing sheets daily


Dear Pollen,
Thank you so much for feeding the bees and making it possible for me to enjoy that sweet nectar honey! Oh how I love peanut butter and honey sandwiches! Do you think though that you could move along now? My blue truck looks GREEN because your yellow loveliness is coating it. My head is pounding because of you. I am getting hives. Itching in places it ain't normal to itch! And the nose bleeds? GACK! So, thanks for the sticky sweet goodness, but you can have the rest.
Sincerely,
Allergy med resistant Momma


Alrighty Smackers! Link up! Leave some LOVE! Don't be the subject of my letter next week!