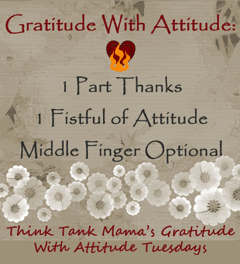 Unleash your ATTITUDE and share the GRATITUDE.
Dear CREEPY Restaurant Manager,
Thank you so much for sharing the germs of every single patron that you shook hands with, with my infant! Yes, I do realize that she is beautiful. I know that you just can't help but ogle. BUT SERIOUSLY, keep yo' hands to yo'self! Even my 2nd grader knows that. It wasn't enough that you came by and "Oooo'ed and Awww'ed." First you touched her hair bow. That was enough to get my hackles up. I am certain you heard me as you walked away. I spoke loud enough for the entire lunch patronage to hear me. Later though, you came back, again. And you not only dismissed the fact that I didn't appreciate your touching her clothing, but went a step further and touched her hand? Really lady! What part of my attitude was inviting? Look...in the future....DON'T TOUCH MY BABY! You and every other old lady who thinks that we are flattered that you think our baby is just oh so cute. Mommas DO NOT appreciate the germs. Not only that, it's just freaking creepy to touch other people's children. Infant or not. Do not do it. Next time, be prepared to get your head snatched bald bitch! I won't do it to those really old ladies. But you were young enough that I wouldn't feel guilty!
Sincerely,
Not Visiting Your Establishment Again...EVER!
Just for you all, cause you keep asking to see the baby.

Dear Stock Boy @ The Grocery,
Thank you so much for supporting my husband in his attempts to warp my son's mind. Severed body parts, squeezed dry of all their bloody contents over regular cabbage, is definitely a suitable explanation for how red cabbage came to fruition. NICE. Dude, guy code or not, NOT COOL. While I appreciate the hub's creativity on occasion, there are things that simply do not fly with me. Even for a second, planting a seed of doubt with my 10yo, who already hates vegetables is soooo not o.k. Now I will never get him to eat cabbage. And not because you had hub's back, and perpetuated his untruth, but because it gave Kooper an excuse that I refuse to argue. It would only give BDC more pleasure. So THANKS for that.
Sincerely,
Disapproving Science Loving Momma


Dear Spring,
Thanks for stopping by. I appreciate the whole five seconds of your visit. It is quite generous of you to move on so quickly making room for Summer to take your three months and adding it to hers. That Summer, she is a greedy bitch ain't she? Please come again, when you can't stay so long!
Sweaty Already,
Dreading the Scorcher Season
Alrighty Smackers. Write your letters and linky link below! I will visit you all!
LOVE!