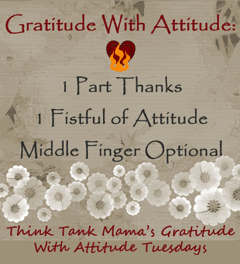 Unleash the Attitude and share your Gratitude!
Thank you so much for making little pieces with pointy edges that fit perfectly into the arch of my foot. They are designed perfectly to cause maximum, straight to the brain with no 15 second delay, PAIN. I am also particularly fond of the pieces created to serve as lights on the Star Wars ships. They hurt so good. I am in awe of your ability to always seem to be missing pieces while we are trying to put sets together, yet the moment you touch a boy's bedroom floor, your pieces seem to reproduce like frogs after a rain storm.
Thanks for your Innovation,
Thank you so much for your douchebaggery and overall incompetence in supplying great Late Night programming. Whilst I do miss Jimmy Fallon, once you pulled the plug on Coco I just had to boycott you. Thankfully, the good folks at TBS have vision. They have scooped up what you tossed out, you know one man's trash, is another man's treasure and all. So come November, I get cable late night programming with Conan O'Brien!?! HELL YEAH!
Cable Lovin' Insomniac Momma
Dear Mojo,
Thanks for trying to evade me with your less than stellar ninja spook skillz. Too bad for you I am like a SUPER SPY with SUPER FLY detective skillz! I hunted your ass down. Beat you over the head, and brought your bitch ass back. BTW, trying to disguise yourself by hiding under the piles of laundry that I don't do....niiiiice. Your spook skills might have been top notch back in the day, but they are no match, for I am the freaking Ghost Whisperer. 'Cept not nearly as annoying as Jennifer Love Hewitt and without the fake eyelashes!
Sincerely,
Will stomp you into submission if I have to hunt you down again.
Alright Smackers. You know what to do. Write your letters. Then linky loo below. I will visit, others with visit. It'll be a great big attitude adjustment love fest. Won't that be fun?
Before you go....leave me some SMACK! Love!