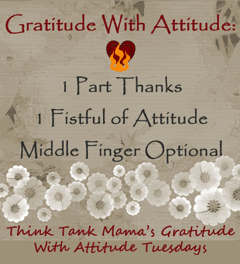 Unleash that Attitude and share your Gratitude!
Dear Mojo,
Thanks for leaving me high and dry. Nothing like being left hanging. Please return ASAP.
Pleadingly,
Unmotivated Momma
Dear Muse,
Thanks for running away with my mojo. I hope the two of you enjoyed your torrid affair. However, I need you to get your ass back here. I can't blog or write a book without your ass. Please get the lead out. I will come hunt you down if necessary. You would prefer the method of returning on your own. Trust me.
Pissed,
Unamused Non-writing Momma
You know what to do...so write your attitude adjustments and get back here to linky linky!
ALSO.....HAPPY BIRTHDAY TO MY MICHAEL TODAY! HE IS 12!