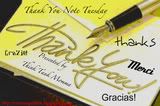 Lip Smackers, it's Tuesday. Time to give Gratitude with Attitude to those people, inanimate objects, animals, loved ones, strangers and anything else that needs it a well deserved FUCKYOUVERYMUCH!
Dear BitchAssHO Scale,
Thank you for the loss this week. But, only 2 pounds? I am going to beat you. Just letting you know.
Thanks for the limited loss anyway.
Healthier Momma
Dear Worst Movie Ever Watchmen Movie,
Thank you very much for the two plus hours that I can't get back. I kept watching the trainwreck expecting that it was going to get better. Hey, I guess I had nothing better to do since I watched the whole DAMN thing. The time together on the couch with the hubs was great. So thanks for that at least.
Won't be waiting for the sequel,
Bored to tears Mommma


Dear Filthy House,
Thank you very much for your ability to collect dust. Thank you for all the time we will be spending together this week cleaning from TOP to BOTTOM. Spring cleaning is coming EARLY. I am so thankful I will have hours upon hours to spend with you. SINCE you don't do anything to keep yourself up. It's ok. I didn't have anything better to do.
Scrubbing you soon,
Clean Nest Loving Momma


Dear Crazy Bitch Redneck at Wal-Mart,
Thank you for running into my cart. Thank you for not apologizing. Thank you for bringing your what? 17 children with you? Thank you for not bathing them. Thank you for giving me dirty looks like I was the one not paying attention. Thank you for making me feel better about myself knowing that no matter how bad things get, I will never been as sad and pathetic as you.
FUCKYOUVERYMUCH,
Attentive Shopper


On a serious note:


BB Chat Family,
There really are no words to express how much you all ROCK! Thank you for EVERY single bit of support and LOVE you all have shared with me this week! I am in awe of you all!
LOVE,
Brandee

Well, Smackers. There you have it. Go ahead. Purge your soul. Write you notes. Give Thanks where Thanks is do. Then linky linky back up here!