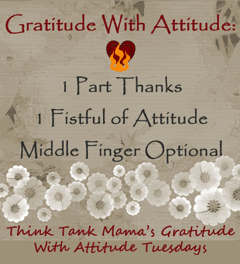 WELCOME SMACKERS! It's Tuesday! Time to share just how grateful you are for all those "special" people places and events in your life. So, sit down, pull out your best 'tude and write some much needed thanks to those who deserve it most.
As you'll notice we have a new
PURTY
(that's southern for pretty) button.
Cheesecake
made it! If you need a button, an award, whatever, go see her. Really she does great work! AND, she will make sure there aren't several others running around sporting your same snazzy button graphics. YES...they are all ONE of A Kind!
OH..and you'll probably also notice that we changed the name! Well, my BBFF The Great
Duckalicious
kept calling it Gratitude with Attitude, and you know what.....it's catchy. Matter of fact, it's GENIUS really. So after you go order a button from Cheescake (see above), and after you link up and write your own
fuckyouverymuch
thanks!
out with a fistful of ATTITUDE, run over and see her.
Ready?
Dear DUMBASS Oh so Smart Neighbor,
Thank you for sending the fire department out yet again in six months time. I know that you got a good stern talking to from the fire marshal last time, but that really was just to take under advisement. They were surely just kidding when they warned you about unattended burns in your back yard. I mean, I realize we live in the sticks and all, but that shouldn't be cause for concern right? No abundance of kindling. Surely not. I appreciate that I had to shut my windows due to all the smoke. I am sure you were totally thinking of my allergies, and didn't want me to suffer from all the pollen in the air. So thanks, dumbass safety first neighbor, for putting our neighborhood on the fire watch list! If I get arrested for blowing up illegal fireworks now, you are so bailing my ass out of jail. Ya asshat.
Sincerely,
Unimpressed Pyro Neighbor
Dear Bellsouth,
Thanks for going out ALL FREAKING NIGHT. It's certainly not like I was launching a new button and link for my Smackers. And hey, they are all understanding. I didn't work on you tirelessly for hours, when I should have been sleeping, because I HAVE AN INFANT. Thanks for teaching me patience. Thanks for reminding me that just because I pay my DSL bill on time, every time, that I shouldn't expect that it will always be up and running. OH, SPECIAL THANKS for your OH SO HELPFUL English speaking technical support group. They are fabulous.
Sincerely,
Thoroughly Pissed and Fit to be Tied.
Dear Rex (Dumbass Smart Safety First Neighbor's dog),
Thanks so much for teaching the Chihuahuas that live with me that the road is a fun place to play! I almost had a heart attack when my babies ran out in the road to meet you. Um...this is just a warning. If you don't quit enticing my puppies to be bad? I am going to drop you off behind the Philippino Restaurant down the street. Just sayin'
Sincerely,
Chi Loving Momma
Well, there you have it Smackers. Now go, run smack. Link it up below. Go order a
button
. And tell
Daffy
how much you love our new name. Do it!
Love!
Join me tomorrow for answers to your questions!