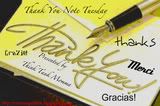 Dear Should not be driving at 115 Mr. McCrusty,
Thank you for missing my Jeep by 3 inches as you pulled out into traffic. I obviously had the right of way since you were pulling out of a parking lot while I was minding my own business driving down the street. However, given the fact that you are old enough to die at any given second, I should certainly have stopped in moving traffic to let you out. At least you noticed me before sudden impact. Please also thank whatever family member renewed your driver's license online. There is no way you could get one if you tried to pass an eye exam at the local DMV so it what very thoughtful of them to endanger the rest of the driving community. I will make sure I clear the fucking streets next time I see your big blue boat of car on the road. You can barely see over the steering wheel, and I know you wouldn't intentionally mow down other drivers.
Thankful to be Alive,
Not a fan of Crash Derby Driving
Dear Bitch Ass Ho Scale,
Thank you for not budging this week. I do so appreciate that you didn't move in the wrong direction. I know that I haven't exercised, I have been a little busy. You know trying to prepare for my baby and all. I realize that I have eaten like shit crap this week, being out on the go, but I have made some healthy choices. Nevertheless, you are still my biatch!
Kiss my Fat Ass,
Holding Steady
Dear Pretender,
Thank you for pretending I don't matter. Thank you for ignoring the fact that I am the most important person in my family's lives. Thank you for reminding me why I make the choices I make. Thank you for reminding me that sometimes doing the right thing isn't necessarily the path that makes the most sense. Sometimes, regardless of how much you try there are always pretenders who will do the wrong thing regardless of the latitude they are given. No matter what, pretenders will always choose the wrong path. Why? I don't know. Perhaps low self esteem? Perhaps just plain and simply you are fucking stupid ignorant. Or perhaps pretenders are just so self absorbed and narcissistic that while the rest of the world gets the magnitude of the situation, you think somehow it's all about you. Whatever the case, thank you for making me look like the saint.
FUCKYOUVERYMUCH Thanks so much,
Saintly G-Momma to be
Dear Mail Lady,
Thanks so much for delivering my packages every day. I appreciate your bad attitude enthusiasm when you honk your horn each day in the driveway, instead of bringing my packages to the door(which is your JOB, just sayin'). Your dirty looks and huffing and puffing like you are so warn out is a bit melodramatic though don't you think? You can rest assured you will have some more packages to deliver though. I have the bestest friends and family in the world who are FUCKING STOKED uber excited about our arrival from The Stork! So thanks for your daily honking! I'll see ya this afternoon! Same bat time, same bat channel!
Anxiously Awaiting,
Very Lucky and Loved!
So there you have it Smackers! Now I know you have some smack to run today. Grab the button and share your gratitude, add a little ATTITUDE and write your FUCKYOUVERYMUCH Thank You Notes. Come back here and add your name in the Mr. Linky so everyone can read your notes too!
Love!