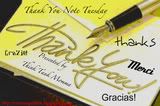 It's Tuesday! Time to cook up some Gratitude. Add a pinch of attitude. Hell, throw a whole handful in the recipe if you like. Let those special people, places or things in your life know just how much you are thankful for their ineptness. Don't hold back. Everyone needs a fuckyouverymuch thankyouverymuch who crosses your path and hasn't learned the golden rule, Do Unto Others.
Dear Nurse McBitchy,
Thank you so much for your piss and vinegar attitude kind and understanding care while my scared teenager was in labor this week. You truly made sure she won't be doing that again anytime soon, or ever. Thank you for blowing three of her veins before asking someone else to help you perform the simplest of nursing tasks. Hell, she probably didn't need those veins anyway. I am not really sure how exactly you ended up on the Labor and Delivery unit of the hospital, but we certainly couldn't have asked for a bigger fucking bitch more kind and compassionate nurse given the circumstances. Thank you for your condescending warm dulcet tone while explaining rules and regulations to me. Obviously I have never been in a delivery room before. Those children, including the one lying in the bed, in labor, yeah, I didn't bear them myself. I must have picked them up at the store where you buy children. We sure did appreciate you sitting her newly stitched hooha in a wheelchair while you dilly dallied around with whatever the hell you were doing for 45 minutes too. Yeah, that definitely drove home the point that she didn't want to do this again EVER.
Sincerely,
Pissed Off Over Protective New G-Momma
Dear BitchAssHo Scale,
Thanks for keeping your whore mouth shut this week. Don't look at me that way either you skank. I will step on you next week when I have had time to undo the damage of fast food. SHUT IT! I was in the hospital and you gotta do what you gotta do.
See you soon,
Back on Track Shortly
Dear HideMyAss.com Visitors,
Thanks so much for visiting my site while trying to play coy. You aren't fooling anyone. Least of all me. You are welcome anytime. Read my snark. Take it to heart. Own that shit. Guess what? You just keep sending those visit stats up. Thanks for your support. Thanks for being....um...how shall we say this kindly....BALL LESS Spine Less. Anonymity is a wonderful thing if you aren't man or woman enough to show yourself. Let me say this, I am me, all the time, all straight up. No filters. No editing. No sugar coating. If you are hiding your identity what does that say about you? Hmmm? Thanks for reminding me that keeping it real is why I love being me.
Fuckyouverymuch,
Sitemeter Monitoring Momma
Well that's what Think Tank Momma cooked up with her handful of attitude this week. What is your recipe for SMACK TALKIN' Thank You Notes? Write it out. Link up. CLEANSE YOUR PALATE.