I'm linking up with my buddy Shell from Things I Can't Say today for Pour Your Heart Out. The only rule, or prerequisite, or request from our hostess for PYHO is that you be respectful of those sharing. These posts are heartfelt and if you don't agree, or have something less than nice to say, just move along. No need to disagree, no need to leave a comment. Come back tomorrow and we'll still be friends.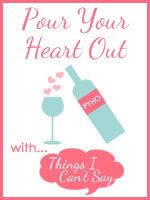 I am a very passionate person. I don't believe that doing things you aren't passionate about makes much sense. I mean, why bother doing it if you aren't going to give it your all? Isn't anything worth doing, worth doing well?
The problem with that is, if you are that passionate about everything that you do, it's a travesty when it doesn't work out the way that you planned, or the way you wanted it to. Well, heck, when does anything work out the way we plan? Um...I have that answer Zgirl. NEVER! O.k...almost never.
When you add to that, the inability to stay focused or on task, yet a passion that burns to the core of your soul, it makes for an ever perpetual state of limbo, so to speak. On the one hand, you want everything to be perfect, because you are neurotically Type A and a control freak. On the flip side of that, you are fly by the seat of your pants, spontaneous and approach things with wild abandon because ADD has infiltrated your brain like a mold you just can't seem to get rid of, no matter how much Tilex you huff you try.
So trying to find balance in the Dr. Jekyll vs. Mr. Hyde calamity that is my daily life is often a challenge. As a mom I often struggle. Especially given the fact that I have three boys who are also ADD (two of them anyway). They often want to do things that I struggle to find interesting, let alone things that I can be passionate about. I mean certainly, I am passionate about being a mom, and being a great mom. The best, coolest, hippest, funnest mom EVAH. I am passionate about spending time with them and sharing experiences with them. Yet, I am not passionate about many of the things we end up doing together.
Thus, I feel like I miss out on some of the fun. I miss out on some of the "magic" of the moment because it's not as spontaneous, or passionate as I would, in my Type A perfectionist world wish it to be. I often feel like I am despondent, or have checked out of the activity because I am merely halfheartedly invested in it.
Am I alone? One woman on an island? Do you as parents struggle to find balance between what you would do and what you end up doing?
Tell me what you do to find balance Smackers! Then go visit
Shell
and pour your heart out!
Don't FORGET! Tie a ribbon around your finger, or put a sticky on the fridge, or set up an alarm and don't forget that tomorrow is Share a Spoon! We are doing party pleazers and appeteezers! That's my punny way of saying appetizers Smackers! Share those party dips, or small bites with us tomorrow!