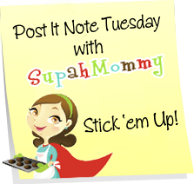 It's Tuesday time for STICKY LOVE.
Clicky clicky that Supah Sticky to get the deets on how this goes down.
Then STICK some notes up!
Alright Smackers. That's all I got for you today. I am coming down with a summer cold. Dangit!
Don't forget to join me and The Duck Thursday for Share a SALAD. Don't make me chase you down and salad fork you 2 death!