Happy Tuesday Smackers! It's that time of the week where you either Put Up or Shut Up. Put up your Post It Notes, that is.
Now, you all know that I like to theme mine, sometimes. Well you know, at least for today.
Ok, so sometimes I am random and all over the place.
Ok, so I am always random and all over the place. Shit, people! Give a girl a break. I know. ADD sucks for you as my readers as much as it does for me in real life. Imagine what poor BDC and my children have to deal with.
Anyooooshinyobject, it's time to link up with the MAGNANIMOUS SupahMommy and STICK 'EM UP!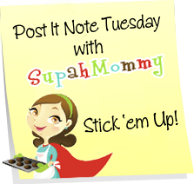 So there you have it. Why I am cooler than 99% of the world's population.
Tell me, my Lip Smackers, what do you do that makes you cooler than the PoW?